Heart of Biddeford and Saco Main Street bring you the River Jam Festival, Saturday, September 17! River Jam promises to put Biddeford and Saco on the map as the ultimate end-of-summer celebration! We don't want you to miss one River Jam minute, so this newsletter spells out all the details in one place. Other ways to be in the know:
River Jam website
River Jam Facebook page
Volunteer Sign-up (get a free River Jam t-shirt!)
Location Map and Parking Details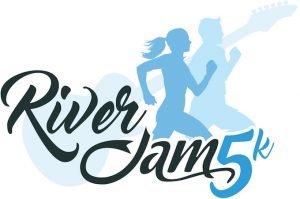 8 a.m. River Jam 5K. 
Start your day with a fun, certified 5K road race or walk. With an 8 a.m. start at Clifford Park, you'll wind through an exciting course that culminates in Mechanics Park. Prizes in all age-categories and a free River Jam t-shirt for all who pre-register (and t-shirt for day-of registrants while supplies last). Registration is $20 through Sept. 14. Day-of registration is $25. Register here now! 
10:30 a.m. – 3 p.m. SUP and Kayak Races, and Try a Boat
Get right on the Saco River, with boating events that depart from Rumery's Boat Yard from 10:30 a.m. – 3 p.m. Mechanics Park has wonderful views of the river, so come early to watch the races! All water events are free. Personal floatation devices provided.
10:30 Stand Up Paddle Board (SUP) Race. Sign up here!
Noon Kayak Race. Sign up here!
1:30-3 Try a boat! Get in a kayak or canoe and have some fun on the beautiful Saco River! No pre-registration necessary.
Noon – 4 p.m. Family Fun and Maker's Market
From Noon-4, make your way to Mechanics Park in Biddeford for lots of family fun! The Maker's Market, brought to you by Engine, will feature the whimsical, practical and sustainable art of talented Maine makers. Here's a sample of the dozen makers you'll meet!
Kids can go bounce-happy with a huge obstacle course plus the Dance Dome! (Yes, free!) Ten local non-profits are providing kid's activities, snacks and info booths! Sweetcream Dairy will be there with their ice cream cart too, with a portion of profits going to Maine Farmland Trust. *NEW* We can hardly wait for you to meet the good folks from Sellam Circus, who will be setting up some circus fun!
3 p.m. Timber Tina's Great Maine Lumberjack Show
Twelve exciting events packed into a 75 minute show! Axe throwing. Log Rolling. Underhand Chopping. Power Hot Sawing. Obstacle Pole Relay. Crosscut Sawing. Pole Climbing… And More!
Tina was a Castaway on CBS's Survivor, a competitor on National Geographic Channel's Ultimate Survival Alaska. She has been competing in lumberjack sports since she was seven years old. A World Champion in both Log Rolling and Jack & Jill Crosscut Sawing, she's bringing her crew here for River Jam! Learn more about Timber Tina and her show here!
4 p.m. Gates Open and Food Trucks/Run of the Mill Brew Tent
At 4 p.m., gates open (yep, gate entrance is free) on Saco Island with Run of the Mill's brew tent and five fantastic food trucks! Enjoy Wicked Good Street Kitchen, Love Cupcakes, On the Wagon, Fishin Ships, and Riz Martz for snacks and beverages.
5 p.m. Sarah Blacker
There's a reason Sarah Blacker was voted Female Performer of the Year in the New England Music Awards! You wont want to miss a moment of Sarah Blacker's feel-good, sundress rockin' set!
Listen to her music and watch videos here.
6:30 p.m. Ghost of Paul Revere
Born on the banks of the Saco River, brothers in all but name, the Ghost of Paul Revere is Maine's holler-folk band. With a sound built around powerful three-part harmonies, energetic performances, and a non-traditional way of interpreting traditional American music, their songs have unique identities while still remaining undeniably the Ghost of Paul Revere. Listen to their incredible sound here.
8 p.m. Rustic Overtones
We are thrilled that Rustic Overtones will headline at this year's RiverJam Festival. Check out great Rustic Overtones video clips here!   Rustic Overtones are a seven piece rock band from Portland Maine with a discography that spans 20 years. The bands unique version of indie rock is strongly influenced by soul music, garage punk, jazz and psychedelic music of the 60's and 70's. "A unique sound steeped in both Earth, Wind and Fire-style funk and late-era Beatles psychedelia." -Rolling Stone
9:30 p.m. Mallett Brothers
Cap off an incredible River Jam with the Mallett Brothers! Over the last 6 years, The Mallett Brothers Band's busy tour schedule has helped them to build a die-hard fanbase across the U.S. while still calling the state of Maine their home. With songs that can range from alt country, to americana, honkytonk,  jam or roots rock, theirs is a musical melting pot that's influenced equally by folk and singer/songwriter influences as it is  by harder rock, twang and psychedelic sounds.
Led by brothers Luke and Will Mallett, the band is rounded out by Adam Cogswell on drums, Nick Leen on bass, Wally on dobro and electric guitar, and Andrew Martelle on fiddle and mandolin. It's song-driven music that holds up under the lens of solitary listening, but that's equally apt to crank a room full of rockers into whiskey-fueled high gear. Watch videos and hear their great music here!

Thank you to our Festival Sponsors, City of Biddeford, City of Saco, Biddeford Savings, Deering Lumber, Saco & Biddeford Savings, and Unitil!  For the full list of Sponsors and Partners, please click here!