The Snow Must Go On!  (In other words, despite the blustery cold this weekend, we will still hold WinterFest's indoor and outdoor events (including Saturday's Winter Carnival and Sunday's Ice Skating). Both venues have warming huts, so we encourage everyone to dress very warmly and take lots of indoor breaks!
Thank You to our WinterFest Sponsors: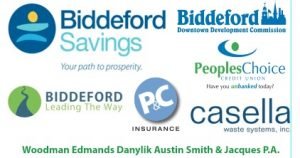 Thursday, Feb. 11, Chili Cook-off, Community Center
Hosted by the 50+ Club
Friday, Feb. 12
6-11 p.m. Heart 2 Heart Dance, Pepperell Center
A dance to benefit the American Heart Association, hosted by UNECOM SOMA
6-7 p.m. free expo
7-11 Dance to the music of the Easy Money Band!
$5 in advance/$10 at the door (Advance tickets available here http://heart2heartdance.brownpapertickets.com/)
Saturday, Feb. 13
11 a.m. – 4 p.m. Winter Carnival, Rotary Park, 550 Main Street
Games, sledding, sleigh rides, snow golf, community booths and concessions. Dress warmly and take lots of breaks inside the warming hut.
Hosted by Biddeford Recreation Department, and Heart of Biddeford

11 a.m. Broomball Scrimmage at UNE's Forum. (new time and new location)
1-3 p.m. Crafts & Movie, McArthur Library, 270 Main Street
Make and take a marshmallow catapult, plus a free movie
Hosted by McArthur Library
5:40 p.m. Biddeford/Thornton High School Ice Hockey, Biddeford Ice Arena
8:30 p.m. Juston McKinney, City Theater, 205 Main Street
Juston has appeared numerous times on the Tonight Show with Jay Leno as well as with Conan O'Brien. He was part of the Blue Collar Comedy" Next Generation" Tour. Tickets available here: http://www.citytheater.org/shows/juston-mckinney/
Sunday, Feb. 14
11 a.m. – 6 p.m. Free Skating & Pizza, West Brook Skating Rink, 1 Columbus Way (on Pool Street)
Hosted by the Knights of Columbus, with pizza from Jokers.
WinterFest Planning Partners include:50+ Club, Biddeford Recreation Department, Biddeford + Saco Chamber of Commerce & Industry, Biddeford School Department, Biddeford Mayor, Biddeford Economic Development, City Theater, Heart of Biddeford, Knights of Columbus, McArthur Library, UNE Office of Community Relations, UNE COM SOMA