Artists are invited to submit creative holiday lighting design concepts to brighten downtown Biddeford for the holiday season. Ten artists will be selected, and will receive a $100 stipend to defray costs of the installation. These 10 artists will be eligible to compete for a $750 Grand Prize.
This project is funded through HOB's program budget, with additional sponsorship from the Biddeford-Saco Rotary Club and Sterling Rope.
Project Overview 
This holiday season, Heart of Biddeford (HOB) will host a contest to engage 10 artists to create holiday lighting designs/sculptures throughout the downtown. Due to an ongoing construction project, 2/3 of the Main Street area is treeless, decreasing the usual amount of lighting. Once lighting designs are in place, HOB will also host a scavenger hunt, during which visitors will be invited to seek out the 10 designs. Following public vote and review by a judging panel, one artist will win a cash Grand Prize of $750.
Suggested Sites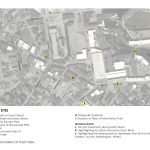 Click on the thumbnail image (at left) to view suggested downtown locations. Artists may also suggest their own location ideas in Biddeford's downtown. HOB will assist artists in securing permissions and electricity.
Submissions

Artists are invited to submit proposals for their location and design concept. There is no entry fee. Applicants should email Heart of Biddeford with their top 3 sight choices (ranked), a photo or sketch of their proposed design, and a brief explanation of how the design will enhance the downtown.
Criteria for selection:
1) Artists must email their submission by Friday, Nov. 4 at 5 p.m.
2) Artists must incorporate lighting in their project. (Therefore, it must either be a location with electrical access or else must use battery operated lights. Solar lights may be acceptable if the piece is in a location that will receive ample light to power the solar battery.)
3) Artists may choose from the list suggested project sites or propose a different downtown location. HOB will assist with securing permissions for use of the various sites.
4) Judging criteria will include [a] Unique design and creative use of lights and decorations; [b] Storyline or theme; [c] Overall presentation.
Timeline: 

Oct. 25 Post Call to Artists
Nov. 4 Submission Date, 5 p.m.
Nov. 9 Approvals sent to artists
Nov. 28 Installed (sooner if able)
Dec. 2 Kick-off for scavenger hunt, during the Downtown Holiday Festival
Dec. 20 $750 Prize Awarded
Questions?
Please email Delilah Poupore, HOB's Executive Director