Click the "Support HOB Today" Button Below to Make a Donation to Heart of Biddeford. Checks can also be mailed to Heart of Biddeford, 205 Main Street, Suite 103, Biddeford, ME 04005.
Do You "Believe in Biddeford"?
A little more than a decade ago, a small group met with then-mayor General Wallace Nutting to form what officially became the Heart of Biddeford (HOB) in 2005. If anything was certain at the time, it was that there was a deep-rooted sense of hopelessness about trying to improve downtown Biddeford. However, this group saw the great potential that existed in Biddeford's downtown — and the need to preserve and promote it. Simply put, HOB believed in Biddeford.
See your name listed on this page in one of the Donor categories below! Click here for the Top 10 Reasons Your Contribution Will Make a Difference in Biddeford!
Thank You Donors & Sponsors!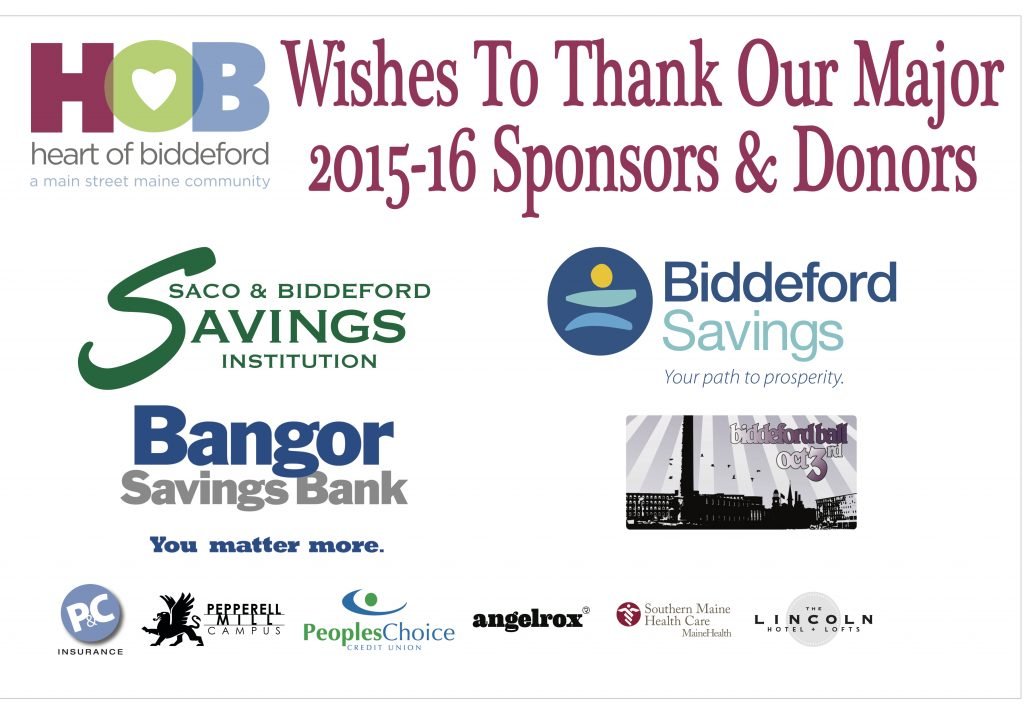 Heart of Biddeford deeply appreciates the contributions of our 2015-16 sponsors and donors, and we particularly appreciate all the support we get from the City of Biddeford! Please click on the link below to see our full list of 2015-16 Donors & Sponsors!
2015-16 Donors & Sponsors
Sponsorship Opportunities
Put your name up in lights (or at least on banners, on social media, and in the papers). Please contact us if you would like to be a sponsor for Music in the Park, RiverJam Festival, Downtown Holiday Festival, Entrepreneurs Group, Storefront and Holiday Lighting and Design, Adopt-a-Park, and our 5K Run! Heart of Biddeford events are wonderful sponsorship opportunities for local businesses.