Our Executive Director is Delilah Poupore. With 20 years of experience leading non-profits and higher educational departments in organizational development and strategic planning, Delilah enjoys coordinating all of Heart of Biddeford's volunteer efforts that contribute to Biddeford's revitalization! Delilah has served in this role since January of 2011.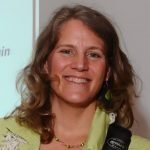 The office is staffed daily by Catherine Glynn, a recent Biddeford resident who took the helm in the office in December of 2015.  Catherine is involved in Biddeford's Historic Preservation Commission as well as the Adopt-a-Park program through her leadership in the Friends of Clifford Park effort.
Collectively, the Board of Directors assumes legal and philosophical responsibility for Heart of Biddeford's program activities.
The board is responsible for policy, planning, committee oversight, funding and financial management, advocacy, evaluation, and personnel. Ultimately, the Board has the accountability for the results and effectiveness of the Heart of Biddeford.
The Heart of Biddeford bylaws allow for up to 21 board members. This allows the board to be small enough to achieve results, yet provides a good cross section of stakeholders. Board terms are renewable, and range from 1 to 3 years.
Board of Directors / Executive Board
Amy Grohman,
President (September 2014)
(Biddeford Resident)
Scott Thibeau,
Vice President (September 2014)
(Pepperell Mill Campus)
Paula Lundgren,
Treasurer
(August 2015)
(Owner, Brainstorm Creative)
Dale Huot,
Secretary (December 2014) (Human Resources Director EVP)
(Biddeford Savings Bank)
Kate Baltren,
Organization Committee Chair
(Biddeford Resident)
Joan Brooks,
(Biddeford Resident)
John Bubier,
City of Biddeford Economic Development
Marianne Clarke,
Business Enhancement Committee Chair
(Consultant)
(Biddeford Resident)
Holly Culloton, (Co-teacher with Violence No More, Self-employed gardener, Muskie School survey taker) (Biddeford Resident)
David Flood ,
(Thread, LLC Real Estate Development)
(Biddeford Resident)
Eileen Foley,
(Co-owner, Trillium) (Biddeford Resident)
John Harkins ,
(Owner, J & J Antiques)
Joe McKenney,
Promotions Committee Chair
(Owner, Joseph McKenney Photo)
(Biddeford Resident)
Mike Swanton,
(City Councilor)
(Biddeford Resident)
Greg Tansley,
City Planner
City of Biddeford
Don Winterhalter, Design Committee Chair (Owner, Aptilite) (Biddeford Resident)
Tammy Ackerman
(Engine)
Renee O'Neil
Megan Rochello